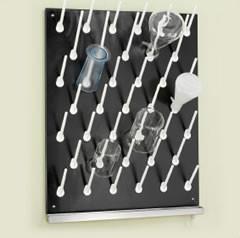 42Wx30Hx1" Epoxy Resin Pegboards Drying Racks
Regular price $821.00 Sale
FREE Polypropylene Pegs With every Purchase Of Any Pegboard/Drying Rack and receive FREE Replacement Pegs for one full year!
Call us now at 1-800-906-8660 to place your order and receive your free pegs!
*This product requires a freight quote to place order prior to purchase*
Our epoxy resin pegboards are the industry standard for drying glassware. Each lab pegboard comes with a stainless steel drip tray. These drying racks are suitable for use in any laboratory. Our epoxy resin laboratory pegboards have a durable epoxy resin panel, which allows our epoxy pegboard to last a lifetime while preventing damage to your most delicate glassware. 
Stainless steel drip trays are available for any of our laboratory drying racks. Our pegboards are available in CUSTOM sizes and patterns. We offer polypropylene drying rack pegs which are available in 5", 6.5" and 8" lengths and have large bases.
For custom sizes or colors, Request a Quote or please email us  sales@blacklandmfg.com 

*This product requires a freight quote to place order prior to purchase*

FEATURES:
1" Epoxy Resin Panel
Polypropylene Pegs
Wall Mount Ready
Custom Colors Available
Available Stainless Drip Tray
Other fine products