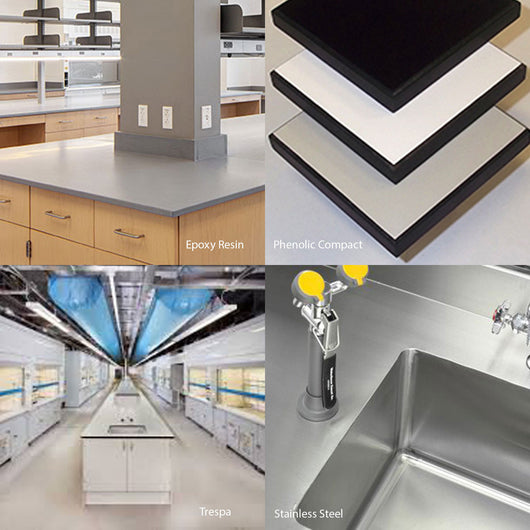 Free Countertop Sample - Laboratory Worksurfaces
Blackland Manufacturing offers Lab grade chemical resistant work surfaces including epoxy and phenolic resins as well as stainless steel and Trespa lab work top solutions for a sterile lab environment. We are also proud to sell Durcon surfaces. Durcon Incorporated is the world's leading manufacturer of laboratory-grade work surfaces.
The Types of Lab Work Surfaces we work with are:
Epoxy Resin - Epoxy Resin Counter Tops and Epoxy Resin Table Tops are Ideal for most laboratory applications
Phenolic Resin - Phenolic resin countertops meet the requirements of most laboratories and a range of additional benefits. These benefits include chemical, wear and water resistance.
Trespa - Trespa makes the perfect surface for quality worktops with inherent antibacterial properties and highly resistant to a wide variety of aggressive chemicals.
Stainless Steel - Our Stainless Steel Countertops are completely customized to suit your needs and are constructed of 16 gauge stainless steel with an optional satin finish.  We offer lengths up to 16 feet without a seem and widths up to 48 inches.