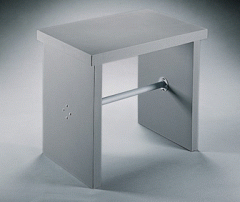 Balance Table
Regular price $1,801.00 Sale
Blackland Manufacturing Produces the highest Quality Epoxy Resin Balance tables, Anti-Vibration Durcon Epoxy Balance Table. When your laboratory needs to eliminate vibration, our custom Epoxy Balance Table is the answer. The High Density Epoxy Resin construction provides a vibration free platform for your balance applications.

Durcon Custom epoxy balance table, Custom sizes / Additional colors available upon request:
Request a Quote or please email us @ sales@blacklandmfg.com
*This product requires a freight quote to place order prior to purchase*
Perfect for all Sensitive Equipment:
Balances
Microscopes
Sensitive Equipment

Anti-Vibration Durcon Epoxy Balance Table Benefits:
Eliminate Vibration
Faster Reads
Reduced Fatigue
Increase Throughput

Specifications:
35"L x 24"D x 31"H
2-1/2" Thick Epoxy Resin Construction
Black (Gray shown for photographic purposes)
400 lbs
WHAT ARE ANTI-VIBRATION DURCON EPOXY BALANCE TABLES USED FOR?
A significant number of scientific experiments, such as those conducted in laboratory clean rooms, and manufacturing processes, such as production of chip wafers used in micro electronics production, can be adversely affected by vibration. Balance tables are designed to reduce these vibrations efficiently in Durcon Custom epoxy balance table.
How does vibration affect different categories of sensitive scientific equipment mounted on balance tables?
To learn more about how vibration affects different categories of scientific experimental equipment we refer to the report from the Institute of Environmental Sciences report titled IES-RP-CC012.1, Considerations in Clean Room Design. According to the report, equipment and procedures are grouped into several categories.
This report categorizes sensitive scientific equipment into five categories: Class A, Class B, Class C, Class D and Class E.
For comparison purposes, normal day-to-day vibration at a residential site has an ambient vibration velocity of 200 microns/second. This level of vibration can adversely affect the use of a bench microscope capable of up to 100x magnification as well as laboratory automation robots. These are limited to a vibration velocity of up to 100.
Class A Equipment requires a balance table or other vibration mitigation strategies.
The next level of sensitive equipment is Class A, which includes items such as bench microscopes up to 400x magnification, optical balances and micro balances as well as various inspection equipment such as problems in metrology laboratories. This type of equipment is affected by vibration velocities in excess of 50 microns/second.
Class B Equipment and Procedures are limited to half the vibration of Class A.
Class B equipment and procedures can withstand no more than 25 micron/second of vibration velocity. Procedures and equipment in the Class B category include a broad range of micro surgery applications including eye and neuro surgeries. Bench microscopes with magnification of 1000x are affected this this level of vibration as are optical tables and steppers for robot type equipment whose movements are at the 3 micron resolution level.
Class C Equipment is limited to only 12 micron/second of vibration velocity.
Scientific equipment in Class C includes the broad category of electron microscopes capable of 30,000x resolution as well as aligners and stepper motors designed to move at 1 micron resolution.
Class D Equipment affects the broad range of chip wafer inspection and electron microscopes at the high end of resolution capabilities.
Class D equipment can only be subjected to half the Class C values, e.g. no more than 6 micron/second of Vibration Velocity. Equipment in this category includes electronic chip wafter inspection systems, 0.5 micron steppers, electron microscopes operating a resolutions above 30,000x magnification, cell implant equipment for genomic research and mass spectrometers
The most sensitive equipment is Class E, which requires an environment of less than 3 micron/second of vibration velocity.
Equipment in this category includes many laser-based measuring systems, including scanning tunneling microscopes.
Common sources of vibration in the laboratory
Facilities can be negatively effected by noise and vibration from HVAC systems, structure-borne noise produced by door closures and foot falls as well as internally generated building vibration. Sources of vibration external to the building include vehicle traffic as well as ambient seismic activity in areas near earthquake faults.
Within the laboratory itself, there are many sources of noise (acoustic vibrations) including vacuum pumps, vacuum chambers, centrifuges, autoclaves, ventilation hoods and pressurized suit system equipment.
Other fine products